Bringing ideas to life with remarkable clarity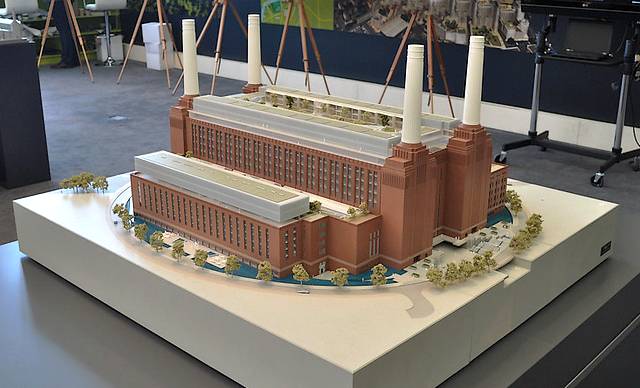 There was a time when having physical architectural models produced was normal. As in the one you see of Battersea power station, they can still be interesting but not the best route.
The time involved makes them expensive and they are a static resource. Making a change can mean sending a model back to a workshop for a week, instead of minutes in good software.
Your visualisation of a project is improved, through the ability to manipulate a 3D model. A virtual tour of a building can be provided, before this is built.
Apart from the insight they offer, 3D models can contribute to error reduction, efficient use of materials, optimising cost. The entire design process is improved, as is your part in this.
This approach fits with stage 2 of the RIBA plan, where two, or three concept designs are produced for you. 3D modelling brings to life nuances which are harder to read on a conventional plan.
Your understanding of a project grows, decisions are easier to make at a key stage. 3D models reflect the intended materials and form, offering a sense of depth and unambiguity.
The design you envisaged can be viewed from any position, at any time of the day. How different spaces will be used and interact becomes clear, the impact this will have.
Advice is naturally given, at a time when planning submission is approaching. Allowing you to envisage the build and participate in a project is still a notable advantage.
Watch a home being built from the ground up in 3D, quicker than the real world.
This is likely to be used after receiving planning approval, when your architect will be focused on work in line with RIBA stage 4. Meeting building regulations and preparing for construction.
A more detailed 3D model is created of a finalised design, including internal spaces. Illustrating rooms with furniture, or chosen finishes gives you an unparalleled sense of scale and clarity.
Visualisation of the proposed building is more photorealistic. You will be able to move through the property, with materials, finishes and furniture added to key spaces.
Imagine being able to move into a property before you have this built. A plan is already in place but not absolutely finite, subtle changes to colours, textures, or fittings could matter.
See the immersive level of exterior and internal detail that can be brought to life.
The range of 3D visualisation packages we offer can be tailored to your needs. Chosen to supplement your individual design and to make the creative process more streamlined.
3D architectural modelling offers a great experience but is also a practical addition. Helping to bring a building into mind, the layout of a kitchen, ease of movement through a property.
We can tailor presentations to support difficult planning proposals. Perhaps objectively show the true impact of overlooking sections, or shadows, to give schemes the best chance of approval.
For the owner, builder, planning officer, or others, 3D visualisation is an amazing opportunity to see your home in advance. Our architect will be pleased to explain how this can help you: